Welcome to Palenque: A Encounter with Pre-Hispanic History
Palenque, located in the heart of the lush Chiapas jungle, is a destination that will transport you through time. This pre-Hispanic city, recognized as a UNESCO World Heritage site, is famous for its impressive Mayan ruins and its mysterious beauty. By staying at VM Palenque, you will have the opportunity to explore this fascinating place and live a unique experience enriched by the history and culture of the ancient Mayan civilization.
Experiences Unique in the Pre-Hispanic City of Palenque
Once you have settled into our hotel and are ready to explore the pre-Hispanic city of Palenque, get ready to live unique experiences. As you venture into the archaeological complex, you will admire imposing structures such as the Temple of the Inscriptions, the Palace, and the Pyramid of the Sun. Every corner of this ancient settlement will take you back in time and allow you to imagine how the ancient Maya lived in this millennia-old city.
Convenience for Your Excursions
Our privileged location will allow you to be close to the main points of interest in Palenque. Just minutes away from our hotel, you will find the entrance to the Palenque Archaeological Zone, where you can discover the majestic Mayan ruins dating back over a thousand years. You will also be near the Agua Azul Waterfalls and the impressive Misol-Ha, two natural destinations that will leave you breathless.
Explore the Pre-Hispanic City of Palenque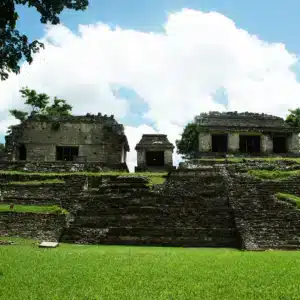 Palenque Archaeological Zone: A Historical Treasure
The Palenque Archaeological Zone is the perfect place to immerse yourself in pre-Hispanic history. As you walk among the ruins, you will admire the sophisticated architecture and artistic details of the Mayan temples, palaces, and pyramids. Don't miss the Temple of the Inscriptions, famous for housing the tomb of the Mayan ruler Pakal, or the Temple of the Cross, with its beautiful reliefs.
The Palace: A Marvel of Mayan Engineering
The Palace is one of the most notable structures in the Palenque Archaeological Zone. This majestic construction represents the splendor of Mayan architecture. Explore its courtyards, corridors, and stairways, and admire the impressive details of its reliefs that tell the story of the ancient civilization.
Temple of the Sun: A Sacred Place
The Temple of the Sun is another highlight in Palenque. From its summit, you will get panoramic views of the surrounding jungle and other archaeological structures. Moreover, this temple holds special significance during the equinoxes when the sun aligns spectacularly with its main stairway.
Book at VM Palenque and Experience the Magic of this Beautiful Place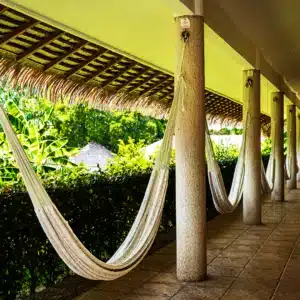 If you are ready to immerse yourself in the history and culture of the ancient pre-Hispanic city of Palenque, don't wait any longer! Book your stay at VM Palenque, Chiapas, and get ready to live a unique experience in a destination that will enchant you from the very beginning. We look forward to providing you with the best experience and making your visit to Palenque an unforgettable adventure