VM Palenque: Where the Chiapas Jungle Becomes an Oasis That Transports You Beyond the Daily Routine. Palenque, located in the state of Chiapas, Mexico, is an archaeological gem that houses impressive Mayan ruins and lush natural beauty. If you're planning to visit this historic city, you're about to embark on an adventure filled with wonders. In this article, we will present you with the best places to visit in Palenque and immerse yourself in its fascinating history and captivating landscapes.
Explore the Mayan Ruins of Palenque: Testimony of an Ancient Civilization
The Mayan ruins of Palenque are a must-visit for any visitor to the region. These majestic architectural structures will transport you through time and showcase the splendor of an ancient civilization. Explore the Temple of the Inscriptions, where the famous King Pakal's tomb is located, or admire the Palace with its elaborate reliefs and courtyards. Don't miss the Temple of the Foliated Cross and the Temple of the Sun, two wonders that stand out for their exceptional art and architecture.
The Historical Significance of the Palenque Ruins
The Palenque ruins are globally recognized for their historical importance and influence on the development of Mayan civilization. Through archaeological findings, experts have discovered fascinating aspects of the culture and daily life of the ancient Mayans. Learn about the advancements in astronomy, mathematics, and writing that the Mayans achieved in Palenque, and marvel at the sophistication and ingenuity of this ancient civilization.
Immerse Yourself in Nature at Misol-Há Waterfall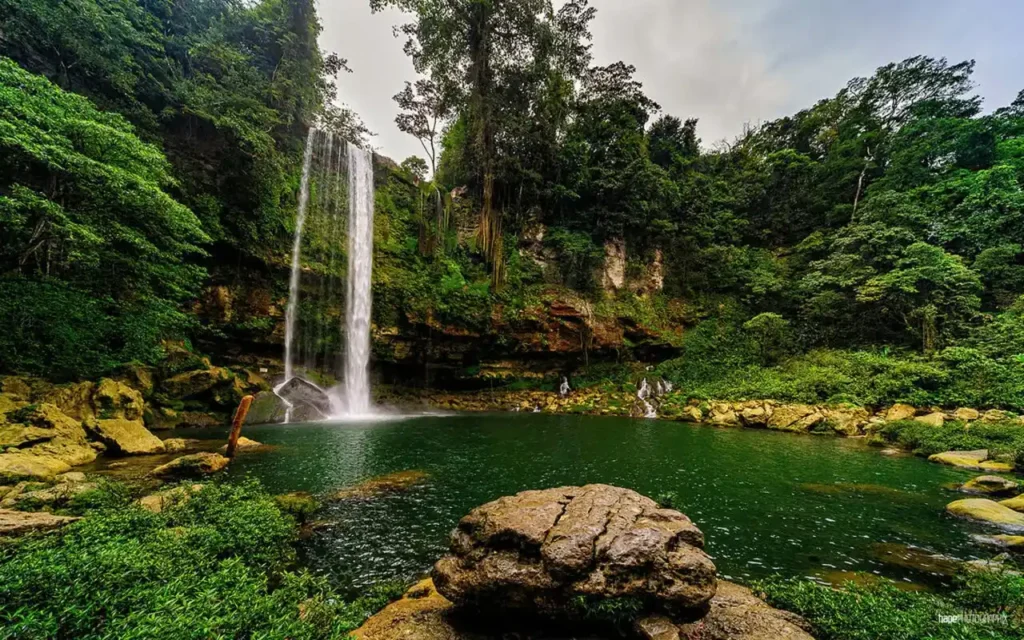 In addition to its archaeological wealth, Palenque is also famous for its impressive natural surroundings. A must-visit is the Misol-Há Waterfall, a majestic waterfall surrounded by lush vegetation. Admire the powerful cascade of water as you cool off in the natural pools formed below. You can also explore nearby trails and discover other fascinating waterfalls and rock formations.
Excursions to the Lacandon Jungle and Biosphere Reserve
For nature and adventure enthusiasts, excursions to the Lacandon Jungle and Biosphere Reserve are a must-do. Join a guided tour and venture into the jungle, where you'll discover a great diversity of flora and fauna. Observe howler monkeys, exotic birds, and a variety of tropical species in their natural habitat. Additionally, you'll learn about conservation practices and the importance of preserving these unique ecosystems.
Experience Local Culture at the Palenque Market
To immerse yourself in authentic local culture, visit the Palenque Market. Here you'll find a wide variety of handmade products such as textiles, jewelry, and ceramics that reflect the cultural heritage of the region. Explore the food stalls and taste traditional Chiapaneco dishes like tamales and artisanal chocolate. You'll also have the opportunity to interact with friendly locals and learn more about their traditions and customs.
Chiapaneco Cuisine: Authentic Flavors
Chiapaneco cuisine is a delight for food lovers. In addition to trying dishes at the market, we recommend exploring local restaurants and savoring regional specialties. Try the cochito horneado, a traditionally seasoned roasted pig, or enjoy a plate of Chiapaneco tamales filled with local ingredients like chipilín or mole. Don't forget to accompany your meals with a cup of Chiapaneco coffee, famous for its unique and aromatic flavor.
VM Palenque is an oasis that allows you to relax and disconnect from the daily routine. With its attention to detail, exceptional hospitality, and unique natural environment, this hotel will be the perfect complement to your adventure in Palenque. Additionally, to make your experience in Palenque even more special, we recommend staying at VM Palenque Chiapas. This charming hotel will provide you with comfort and tranquility during your vacation.